PC XX1 Eagle 12-Speed Chain Rainbow HollowPin w/Powerlock (126 Links)

Pay for your purchase in four interest-free installments (due every two weeks).
Detail Information
SRAM CHAIN PC-XX1 EAGLE 12SPD 126L RAINBOW
The strongest system is a chain with no weak links. Eagle chain links have a smooth radius, with no sharp edges or chamfers, which yield a significant reduction in noise, friction and wear. This design also allows for a flatter plate, which means more consistent chain riveting and greater overall strength. And it's also the biggest contributor to the ultra-smooth, precise, durable and quiet performance found in the 10-50 tooth cassette and X-SYNC 2 chainrings. Installation is made easy with a dedicated 12-speed Eagle quick link.
FEATURES:
Groundbreaking new chain design and technology.
The Eagle chain has been completely re-engineered, and is produced with new manufacturing technology.
All-new Eagle Power Lock chain connector with FLOWLINK technology provides better chain-guiding and increased longevity.
The Eagle chain is the quietest, strongest and most wear-resistant chain in the world.
Unique features and design also provide significantly improved wear resistance on Eagle cassettes and rings.
SPECIFICATIONS:
Compatible Speed (CN) - 12s-Eagle
Chain length (links) - 126 links
Colour (Outer link) - Rainbow
Colour (Inner link) - Rainbow
Chain connector - PowerLock
Inner link finish - Chrome plated +PVD
Outer link finish - Chrome plated +PVD
Pin variant - Hollow Pin
Pin treatment - Chrome Hardened
Product Reviews
0
stars based on
0
reviews
You may also
Like this
-15%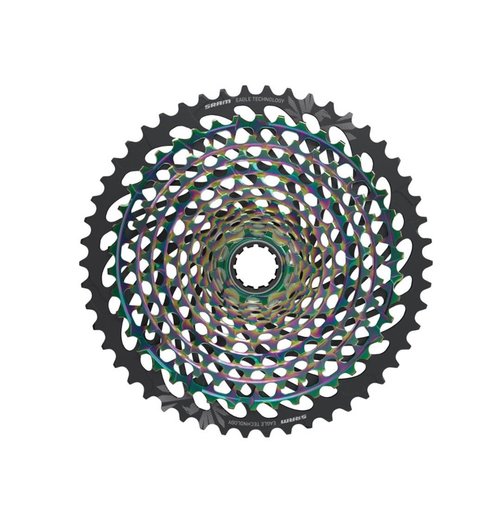 $830.00 $705.50
CS XG1299 CASSETTE 10-50 RNBW, XG1299 Cassette 10-50 12 Speed XD Driver Eagle Rainbow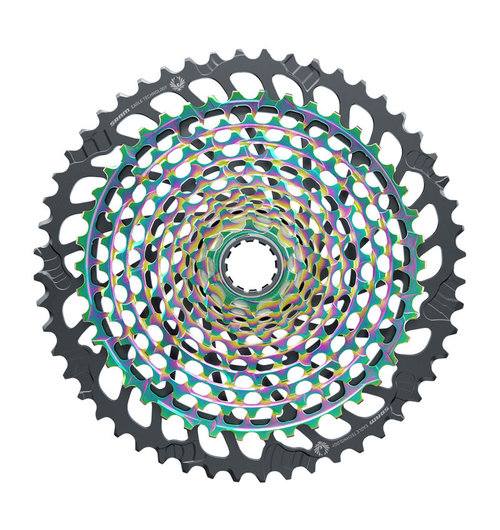 $799.99
CS XG1299 EAGLE 10-52T RBO, Cassette XG-1299 Eagle 10-52 12 speed Rainbow
-16%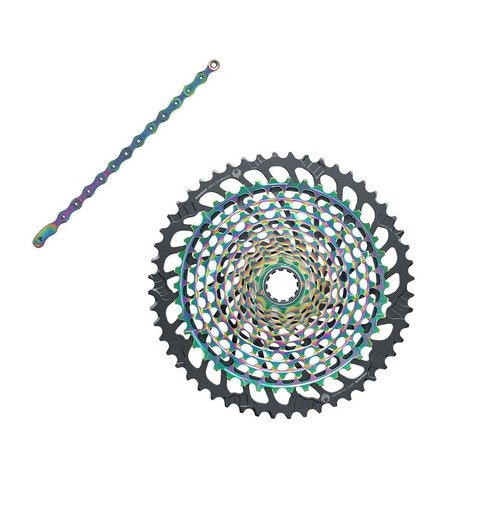 $988.00 $830.00
SRAM Eagle 12-speed Rainbow Chain & Cassette Combo w/ XG-1299 10-52T cassette & 126 link chain